Files can sometimes accumulate over time, especially at work. It is only in hindsight that we sometimes see how we can best tackle organizing them. The same goes for PDF files. We can receive them now and then, and when we see that some files are better when joined into a single PDF file.
It takes looking from afar to see how things need to be merged. But when it comes to merging files, it can get tricky. There are a hundred PDF websites that offer their free services and add to your frustration.
Feeding files to these websites can sometimes jumble up the arrangement of your files no matter how much you try to arrange them. Leaving you irritated with the result.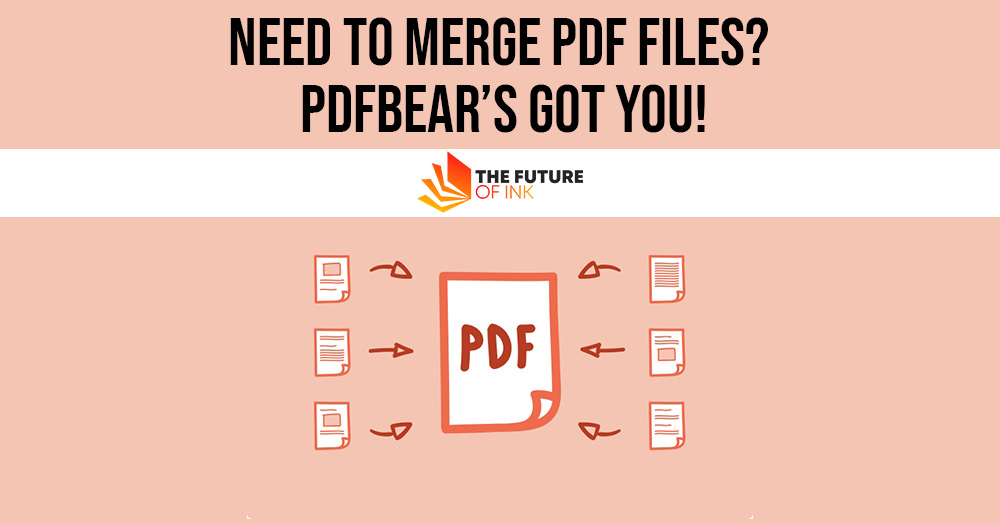 That is why it is important to find a reliable PDF website to merge your files just the way you want them. 
Merge Your Files With PDFBear
Looking for the right PDF website is like looking for a trusted cook. Not all websites that allow you to use their PDF tools are being run by professionals. The risk of uploading your file to these websites will be the damage of your files, after getting viruses from such free services.
The best way to make sure that your files will come out in good quality is through PDFBear. PDFBear is a reliable website made by experts in software technology.
If you want to safely merge PDF and get the best result at the same time, visit their website and you will see these simple steps below on how to merge PDF files:
1. Select the PDF files or Drag and Drop the files. 
2. The PDF Merge tool will do the rest of the work.
3. Modify your files if necessary. When done press Combine or Merge PDF.
4. Download your PDF file to your disc or share it on Google Drive or Dropbox.
Afterward, you can either save your file to your computer or copy the link of the file so you can attach it to your emails for others to download. You may have noticed that there are more options for those who have pro membership.
In the pro option, not only can you arrange and combine files, but also arrange individual pages of your PDF files.
Some of the perks of being a member of the PDFBear community are to be able to have unlimited tasks per day, do large file conversions, and access all their tools. 
Also Read: How to Use PDFBear in Converting Excel To PDF?
Use PDFBear Today
If you want to experience PDFBear for yourself, you can with the 14 day trial period it offers. Within that time you would be able to use the many PDF tools that you will surely find useful for your PDF files in work, school, or home. How can PDFBear help you with your soft copy files?  
With online classes and work from the home setups because of the pandemic, everyone is expected to work and learn virtually. I think you will more than agree that our way of transacting has become more lenient in the electronic copy of files.
We used to send hard copies of our work directly to other people, but now we all have to learn to send it via the internet. At this point, we can all say without a doubt that not everyone is happy with transitioning.
We probably have known that the best way to send our files, outputs, reports, and documents via the internet and make sure it looks the same on the receiver end is by converting it to PDF format.
The PDF file is widely used because it makes files appear the same way on any computer or device, regardless of the software program running. 
But dealing with files takes more than knowing how to convert them to PDF and here is where PDFBear enters. So what else can PDFBear do for you?
1. Organize
Besides Merging your PDF files, PDFBear can also split and delete pages that contain sensitive data you don't want to include. If you have files that have parts that are already obsolete or taking up unnecessary space.
Do you have PDF Files documents that you need to separate, like the answer key to the activity of your students or the part of a document that needs to be saved into a different file? You can organize your PDFs with PDFBear!
2. Edit and View
With PDFBear help, you can make your PDF more formal and official, you can add elements like watermarks, e-signatures, pages. If you observe some typographical errors or want to change something, PDFBear makes the process easy and manageable.
If you have PDF pages that you want to straighten up, changing into portrait or landscape position rotating your PDF pages will be easy as ABC. 
3. Optimize
As most of us would not know, PDF files are very light, compact which makes them easy to download or send.
But if you have PDF files that are lengthy or filled with images, what you can do to save space is to compress your PDF files. With PDFBear's compressing tool, your PDF files will not take up as much space and give you more storage for your other files.
While we might be careful with our files, it isn't unusual for viruses to bring damage to them. But you don't have to immediately discard PDF files that have damaged pages. Try PDFBear's repair tool first and you might be able to rescue that file from going to the bin. 
4. Secure
If you have PDF files that need more security than usual, the more reason you should use PDFBear.
With PDFBear you can apply the password required before anyone can access your files. Only authorized individuals will be able to open your files and keep them from prying eyes. 
5. Convert Your Files 
Last but not the least, PDFBear helps its users convert Excel, PPT, Word, HTML, JPG to PDF. 
If you have PDF files that you want to edit or like to save in a different format, it also allows users to convert PDF files to other formats. With these tools available you change to make your work or your output into any format required. 
Also Read: What's the Correct Length for an Ebook?
In Conclusion 
The best part of this all is that PDFBear offers access to all its tools, provides customer support, and caters to big file size conversions, and unlimited tasks with those who join their PDF community.
So whether you can use a hand in work, your children's school output, or personal needs, PDFBear's monthly fee of $11.99 or an annual fee of $111.99 makes it all worth it. Say goodbye to your days of frustration with soft copy files with PDFBear!