Suppose you could do away with one of the most costly expenditures on your farm every month. More so, what if you could make these savings without making any significant modifications to your farming setup?
With portable solar generators, these questions are no longer hypothetical.  
You can drastically reduce or even eliminate your monthly electricity bills by switching from utility-produced electricity to renewable energy provided by your own portable solar power system. 
Large-scale solar-powered farms that generate solar for off-site consumption, like tiny power plants, are not the focus of this article. What we are talking about here is using portable solar panels and generators to generate and store electricity for your farm. 
Solar energy for agriculture is meant to produce enough energy to operate a farm's operations, either partially or entirely. It is like having your very own solar system, all yours. You will own your portable solar power station, which means that you will reap the full benefits that the setup has to offer.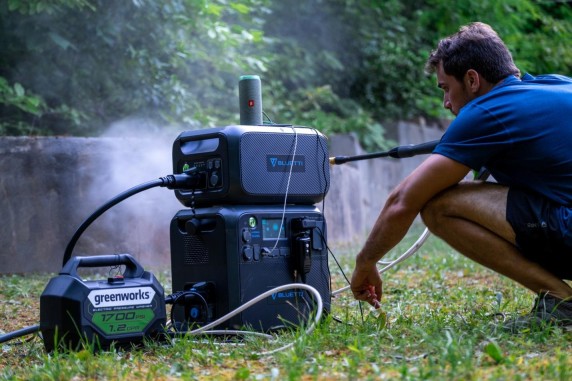 Here are a few reasons you should consider switching to portable solar power for farming. 
Why Portable Solar Generators Are a Good Solution for Farming Operations
1. Lower Operating Costs
Whether it's running exhaust fans for the animals or processing machinery for the harvested crops, there are probably multiple months a year where electricity is one of your farm's biggest expenses. 
Of course, portable solar panels will not replace electricity, but it will generate and store that electricity for you for free. By installing a portable solar power plant, you can reduce or even entirely eliminate your monthly electricity bill. 
Depending on the cost and energy consumption of your system, you may see a return on investment in as little as a few months, leaving you with decades of free electricity production over the course of its 25- to 30-year lifespan. 
That means that the money that would normally have been spent on electricity bills can now be invested in other goals, such as saving for the future or expanding your farm.
Also Read: Outbound Marketing in the Digital Age – A Complete Guide 
2. Can Resolve Drought-Related Problems
Farmers in many areas of the US frequently deal with droughts. Solar power is an opportunity to develop answers to the pervasive issues that have arisen as a result of these dry spells. 
The dependency of a farm on hydropower can be greatly cut down through the use of solar energy. This can assist in redirecting water from hydropower towards irrigation solutions, hence, lowering the demand for groundwater.
Solar energy is an ideal alternative for areas that are prone to drought since it uses very little water and can be used even in places where there is a restricted supply of water.
3. Can Future-Proof the Farm for Upcoming Generations
Although the cost of electricity can shift significantly from one year to the next, it is reasonable to assume that over the course of a longer period of time, it will continue to go up.
Thus, even if you can manage your farm's electricity expense right now, that may not be possible for you within the next 20 or even 10 years. 
If your farm is a family legacy that is passed down from generation to generation, a portable solar power system introduced during your watch shall keep benefiting the next generations.
Or, if you are thinking of retiring and selling your farm, the presence of a portable solar system can considerably increase your farm's selling price and give you a larger payout. Alternatively, you could always pack up the portable solar system and take it with you. 
4. Helps the Environment
Climate change is serious business. Farms are often the largest contributors to this problem, while also being amongst its biggest victims. 
Converting your farm to solar power is an excellent move that will help you do your part to protect the planet. Solar-powered farms may feed their excess energy into the grid, which is good for the community and the planet as a whole.
5. Is a Low-Risk and Low-Maintenance Investment
There is no scarcity of farm equipment available for purchase. However, many of these massive machines, such as tractors or processing machinery, need manpower both to run and maintain them.
That, however, is not the case for portable solar generators. These systems require little to no maintenance and can run smoothly with minimal involvement from your end. 
Additionally, as long as you go for quality equipment, your portable solar system should come with warranties that keep you covered in case something does go wrong. 
Furthermore, the tax benefits offered by solar energy systems are unlikely to be matched by investment in any other farming equipment. If you pay less in taxes, more of your earnings will go directly into your pocket, where they can be put to use on your farm.
With the money saved by installing solar panels in the first year, you might easily afford to buy that other piece of machinery outright.
6. Provides a Better Home for Animals and Plants
The procedure of installing portable solar generators, or the mere presence of such a system on your property, does not pose any danger or risk to the animals and other forms of wildlife that grow or reside there. The system, too, takes up little space. 
For this reason, portable power stations have the potential to supply a far more welcoming and spacious home for the plants and animals that now reside on your agricultural property.
Also Read: When It Comes to Online Marketing, You Will NEVER Please Everyone
Portable Solar Generators Promise Plenty to Farmers
Portable solar generators are not just beneficial for offices and homes, but also have plenty to offer to farmers. 
Not only can they reduce your taxes and operating expenses, but they are a long-term solution that can secure your farms' future and sustainability by reducing its dependence on fossil fuels and grid electricity.