If you're wondering why you should convert your excel to PDF, this page has the answer. There are advantages to distributing an Excel spreadsheet as a PDF document. To put it another way, anyone may read the PDF document.
A PDF file allows you to password-protect your document. You can password secure the PDF file to prevent it from being printed, edited, or copied.
The PDF file format is one of the most widespread file formats in use today. It gained popularity in 2008 for being widely used in the legal, medical, and real-estate professions, but it can be used in schools and universities, small businesses, and even at home.
Using PDF reduces effort and saves time when distributing files. Today, we'll go over how to use PDFBear to convert your Excel spreadsheets to PDFs for free. But first, let's go over what this platform is all about.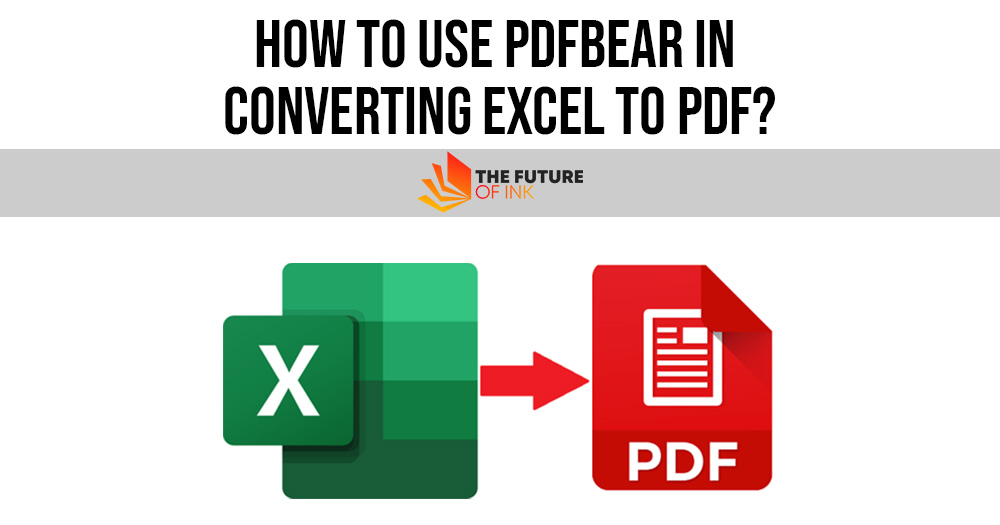 Get to Know PDFBear
Today, we'll show you how to convert excel to PDF with PDFBear. However, this platform isn't just for converting files to PDF. If you wish to handle your PDF files, PDFBear is a dependable platform to utilize.
You may rotate, fix, convert, compress, divide, and combine your PDFs. This platform is a one-stop PDF utility and converter website for all things PDF.
You may convert any document to PDF format, or you can do the opposite: convert your PDF file to any file format. Furthermore, it is secure and safe to use because after uploading your data, its system will automatically erase them after an hour.
Also Read: Digital Publishing: 5 Reasons Your eBook May Need an ISBN
Steps on Converting Your Excel into PDF
To begin the converting process, go to the PDFBear website. You do not need to purchase or install any downloaded PDFBear applications. Navigate to the "Excel to PDF" conversion site by clicking on the "All Tools" tab and selecting "Excel to PDF".
You will see a blue box on your screen where you may upload the file you want to convert. Inserting the Excel file or worksheet into the given field is the initial step in converting Excel to PDF.
You have two different options when it comes to uploading your work to PDFBear. One option is to go to your file storage and locate the document you want to convert.
After that, simply drag the file into the blue area tab of PDFBear. Another option is to go to the PDFBear website, select "Select Files," and then find the file you want to convert.
After uploading, select "Convert to PDF " and just wait for PDFBear to convert your excel into PDF while you wait for the transitioning process to complete.
When you click the 'Convert' button on PDFBear's online Excel to PDF file conversion program, it will begin assessing and redesigning the file. As long as you import the proper file, you should get a fresh, high-quality, and full PDF in less than a minute.
That's how easy the conversion is. After the conversion, a download button will appear on your screen. Choose this option if you want to save a copy of the converted file on your device.
The wonderful thing about PDFBear is that you can share it with others by using the shareable link that they provide. If you are concerned about the security of your file, you can delete it afterward.
Advantages of Choosing PDFBear
We recommend PDFBear because of its efficient operation, which is why it is suitable, if not ideal, for converting PDFs like this. This online platform is ideal for people who wish to utilize online tools.
It uses a simple conversion, and everyone appears to be excited to give it a try. There is no need to collect extra information because PDFBear is a platform that anybody with a basic understanding of the internet may use.
PDFBear Online Tools
Converter 
The program supports both old and new Office file types. You can also upload several JPEGs and combine them into a single PDF, and you may adjust the margins and orientation. It is also involved with HTML.
Simply copy and paste the URL of the chosen page to convert it to PDF with a single click. The file's quality is high-quality even after converting. Convert your PDFs into editable files as well. This application uses the Solid Documents Framework for file conversion.
Watermark and eSign
You may also adjust the transparency and typeface of the watermark as needed. PDFBear also makes it easy to sign your documents. To complete the clearance, sign your name, sign the PDF, and urge others to sign as well.
There are numerous ways to create a signature on their website. Add a watermark to your PDF by stamping a picture or text over it in seconds.
Merge, Split, and Compress
PDFBear allows you to combine several PDFs from the browser in whatever order you choose. If the document is lengthy, you can choose individual pages and save them as PDFs.
Reduce the size of your PDFs online so that you can easily share them. There is an option that allows you to select your desired compression level.
PDFBear's Cloud Storage System
PDFBear Cloud service may be accessible on your device. You may use this web interface to convert Excel to PDF on any operating system, including Microsoft Windows, Apple macOS, Linux, Android, and Apple's iOS.
Customers can convert Excel files from their mobile devices to PDF with ease. The Cloud service of this program enables you to manage any Excel conversion to PDF from a remote place. In exchange, you would not have to use your technical knowledge.
Only a steady internet connection and a web browser like Google Chrome, Mozilla Firefox, Microsoft Edge, Internet Explorer, Safari, Opera, or Sogou Explorer are needed.
Also Read: What's the Correct Length for an Ebook?
Conclusion
PDF is a highly adaptable format for a wide range of applications. If you want to use this adaptable format, you may convert your files to PDF with PDFBear. The instructions above will demonstrate how to utilize your Excel to PDF converter.
Use PDFBear to convert Excel to PDF easily. You should have no trouble converting your Excel file to PDF. We guarantee that by utilizing this platform, you will be able to complete your task without problem.