Creating a company blog is one of the best methods of promotion you can choose for your corporate website. However, making content is not as easy as it seems, and you can't just randomly start writing pieces without looking at the trendsetters in the industry.
That's right, just like with fashion, we have our trends in blogging, and to make your blogs successful, you need to acknowledge these trends and use them in writing and post-writing promotion.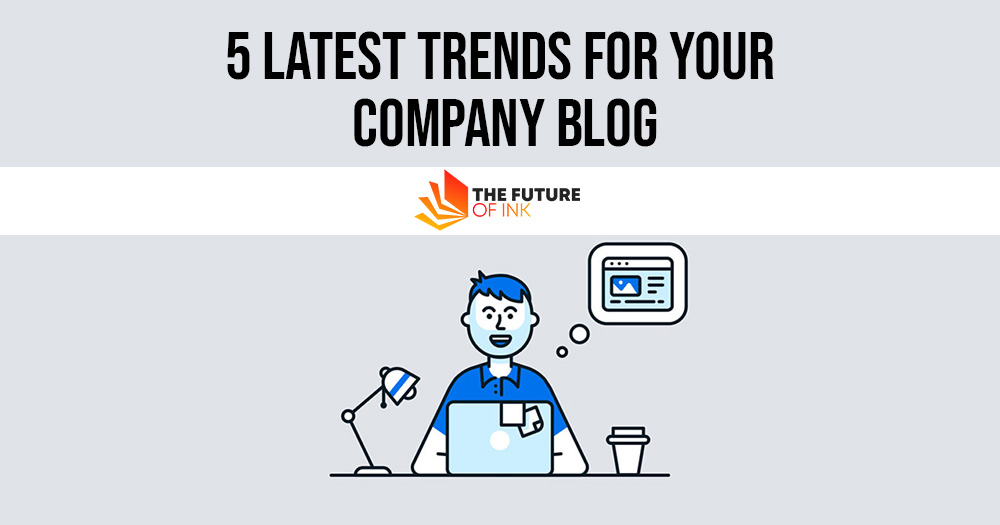 So, let's take a look at the hottest trends in the blogging industry and share some blogging tips we have in our pocket. Let's go!
Long reads are hot!
In digital marketing, there's nothing hotter than long articles with a lot of information. Only five years ago, an average article on the internet was about 1050 words, and now we see that social media platforms prefer much longer posts 2000+ words long.
Social media and search engines now want to see that you work longer and harder on every single one of your posts, that you show the highest level of competence there, and, what's crucial, have a back-up for every word you have said there.
This particularly applies to corporate blogs of medical and pharmaceutical companies, but it is also crucial for corporate blogs that talk about money, health, and other topics that can influence a person's life or well-being.
Also Read: Online Tools to Identify Plagiarism in Your Content For Free
Rewriting is even hotter!
In addition to the previous part, we should add a bit about the importance of revisiting and rewriting your content.
We advise you to analyze the data of your blog posts and look at all the posts that need new content added or have the parts that are not relevant anymore and need to be rewritten. Google sees that you work on your posts, its bot revisits it too, and it lets more people find out about your blog.
If you have a topic you are writing about every year, it is better not to create a new page but to add and improve the existing one to get the most out of it.
Adding a lot of visuals to your posts
We are true believers in high-quality visuals for your blog. Nice infographics and excellent photos to illustrate your points are must-haves in every corporate blog.
We advise you to take these photos by yourself and make infographics in any photo editor of your choice, just to have unique and opulent visual content one your posts. Use stock photos only as a canvas.
But that's not all: besides having great images on your blog, you definitely have to add videos to your posts as often as you can. One of the biggest video marketing mistakes you can make is not to use video marketing in your content marketing strategy.
It is just effortless to make nice, simple videos that illustrate your points with a free online video editor and get all the benefits of videos on your blog: more exposure, increased time spent on a page, and improved search engine rankings.
Try not to overthink them and make simple videos with an easy-to-follow premise. Some of your readers will be more than happy to listen and learn what you are writing about from the video because not everyone has time to read a 2000-word article.
And some just don't want to do it. So please give them the opportunity to hear you differently and create simple videos for your blog posts.
Checking and double-checking your texts
No one is perfect, and we all make mistakes from time to time. In blogging, we, thankfully, can avoid serious writing mistakes if we follow simple rules of high-quality writing, which are:
Always check and double-check every word you have written to minimize the possibility of a typo.

Use not one, but multiple grammar checkers

Involve at least two people in proofreading your posts: an author and an editor. You can notice mistakes another person fails to see and vice versa, but if you do it together, the possibility of making a typo or any other mistake is really low.

Avoid plagiarism

at any cost. Stolen content never makes your blog do better. In contrast, it signals a search engine that your website is not a reliable source of information, and it cannot be useful for users. Hence, it can cause the removal of your pages from SERP.

Always try making your articles as informational and professional as you can and involve specialists from the particular industry to help you develop decent material.
SEO optimization is still cool
It's 2022, and one of the best tips for business owners we have about content is you should optimize your texts, make them as SEO-friendly as possible, and revisit your old content to improve its optimization.
An SEO expert should be one of the leading voices in the blog posts preparation process, and they need to work with writers and editors together to create the best content.
Promotion is your best friend
Social media and various advertising possibilities they have, like Facebook ads or Google ads, are still on the top of the world.
Besides commercial promotion, also turn your face to regular social media promotion through your pages and public profiles. Talk to people, explain how your corporate blog can help them, and be very active on social media to spark their interest.
Also Read: Blog Tours – A Proven Strategy to Sell eBooks and More
Conclusion
Managing a company blog is a complex task, and you can absolutely get lost in this dark area. Trends are like guiding lights in this darkness, and they show you what exactly people want to see in your blog.
You don't have to follow all the trends in the world, but you need to have them in mind while creating your content. And that's all we had to say to you. Oh, yeah! Good luck!