If you are being accused of plagiarism, then there is always a chance it might not be because of intentional duplication. It can be because your content accidentally matches the work of another person.
Plagiarism can have severe consequences and affects your personal and professional life, so you need to identify plagiarism and remove it before sending your work.
In the past, checking plagiarism was considered very difficult because of the lack of technology and awareness about different means used to find plagiarism. 
In this article, we will discuss the best tools that are today being used to identify plagiarism in all kinds of content for free. These free tools are commonly known as plagiarism checkers. 
Plagiarism checkers are the modern-day duplication identifying utilities that are being offered by multiple websites and applications.
There are hundreds of different online plagiarism checkers indexed on the web today. Still, not all of them are reliable and free to use.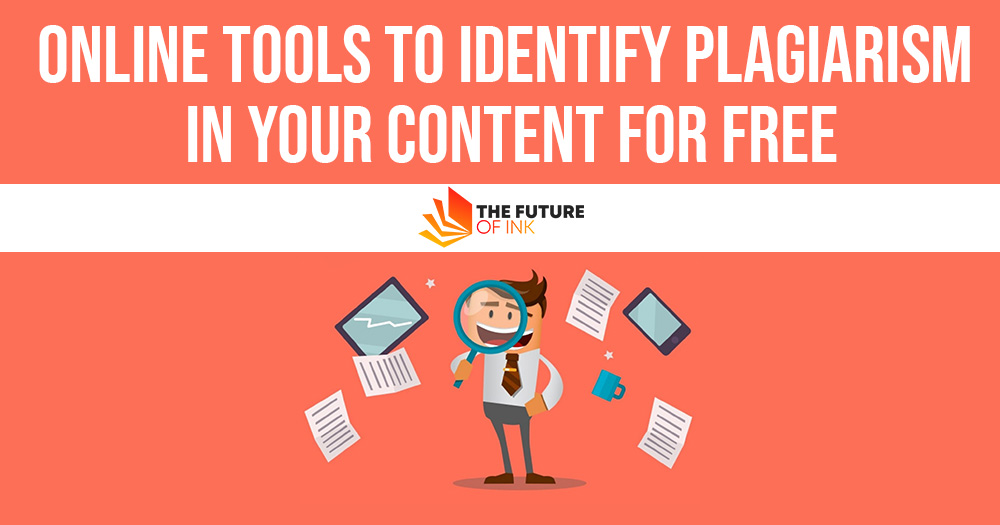 This is why in this post, we have compiled our list, which would tell you about the best online tools to identify plagiarism for free.
Best online tools for identifying plagiarism in all kinds of content!
Most people don't recommend using free plagiarism checkers because, in their opinion, the biggest risk with these tools is content theft.
But rest assured, as the tools we have mentioned below are well-trusted and reliable for their security. So without any delay, let us dig into the details of these tools:
Duplichecker is providing free services, as the name tells us, it can help you find duplication in your content. This free online tool is considered to be best for finding intentional as well unintentional cases of plagiarism.
You have to open the online plagiarism checker on your device and use the input options to enter the content you want to check for plagiarism.
Duplichecker can scan text, document files as well as complete websites for duplication. This website cum tool can be used for both professional and personal uses.
Also Read: Need to Merge PDF Files? PDFBear's Got You!
This is a very famous and among the most reliable plagiarism scanner on the web these days. This plagiarism checker uses AI to scan your work and compare it with billions of web pages indexed on different search engines.
The most important thing about this tool is that it has its very own database that saves your content.
Now, this is not a red flag because this database is used to compare your new content with your old submissions. This helps the tool find cases of accidental and self-plagiarism, and that too for free.
This plagiarism checker also comes with a paid version which you can easily use once your free trial has expired.
SmallSEOTools – Plagiarism Checker
SmallSEOTools is a very famous website that offers hundreds of free services. This website also offers a plagiarism tool that everyone can use. You can check all kinds of content with this tool.
Its plagiarism checker can identify plagiarism in your work and provide you with in-depth details about the matched sources.
You can easily find out the websites or URLs to the sources your content has similarities with.
Every day millions of writers are using this free plagiarism checker for the sole purpose of finding different kinds of plagiarism in their work.
This is another web-based free plagiarism checker that can help you find duplication and similarities in content. Plagiarism tool is an all-in-one solution for writers of all ages. With this website, you can easily check plagiarism.
You can easily find grammatical mistakes, spelling errors, and even wrong punctuations with this tool.
If you want to find missing citations required in your work, you can also rely on this tool.
Plagiarismdetector.net is a very popular website that provides free plagiarism checking facilities to all kinds of users. Free plagiarism checker is today being used by thousands of writers and students from all across the globe.
The tool is very much famous because of its deep search algorithms capable of finding even the slightest matches in your content. 
Also Read: How to Use PDFBear in Converting Excel To PDF?
SearchEngineReports.Net – Plagiarism Tool
This plagiarism tool is another free option to check plagiarism. This plagiarism checker can scan more than 1500 words in one go which is a big plus.
If you are looking to check lengthy articles for plagiarism, then this tool might be the best option you have online.
The tool uses AI and advanced algorithms to identify plagiarism in your work. The tool is absolutely free and very easy in its working, plus there are no limitations or restrictions. One can check millions of files per day with it!
These are some of the finest online tools that are capable of detecting plagiarism with complete accuracy!