When building a website or blog, you must consider using the best type of CMS (Content Management Service) on the market. A good CMS can work a lot of wonders from your brand and increase the overall customer experience to a great extent.
The purpose of your CMS is to create, manage and modify the content on your website without any HTML or coding knowledge.
Due to modern innovation, we have witnessed the development of efficient and easy-to-use CMS tools. These tools allow people to set up their website from scratch without hiring a programmer, coder, or developer.
Liferay, WordPress, Joomla, and Drupal are state-of-the-art content management systems. Each of them is unique and has a set of distinct features that can optimize your final result.
What does this mean for you? It's easy to settle for any of these CMS. However, you should only pick whatever gives you the best chance of success and suits your needs.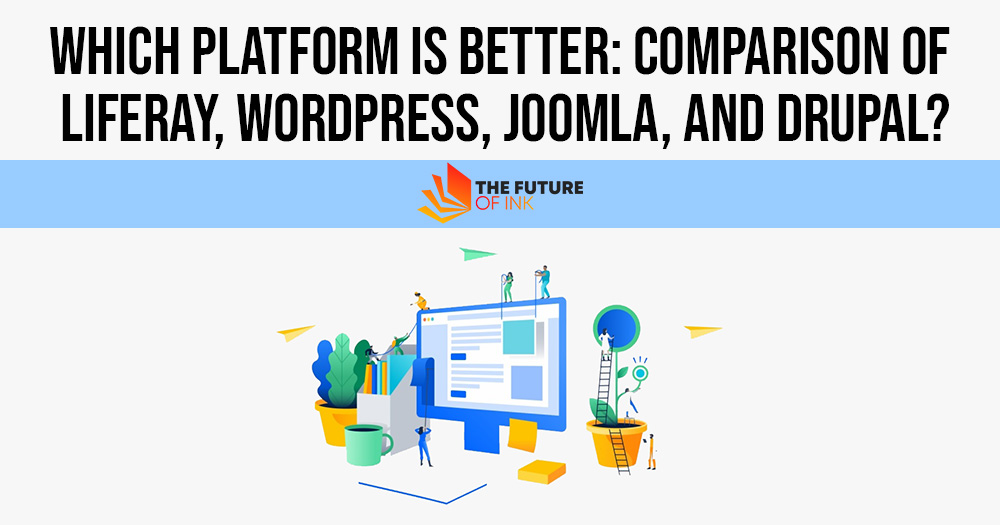 In simple terms, you need to go for the best. So, which platform is better – Liferay, WordPress, Joomla, and Drupal? Keep reading to find out.
Comparison of Liferay, WordPress, Joomla, and Drupal
To effectively compare Liferay, WordPress, Joomla, and Drupal, we'll take a look at the unique properties, features, and uses of each platform. You'll learn what makes each of them special, including the type of users that regularly utilize their services.  
Let's begin!
Joomla
Joomla has quickly become the top CMS platform in Asia, and many Asian developers have already started to adopt this tool. Did you know that Joomla has been used to set up about 2.8 million websites? That's an incredible market share of 7.2%.
When you think of how this tool has come this far in such a short period, the unique nature of this market share achievement becomes clearer.
Joomla is a top-quality CMS that offers about 5,000 plugins and 1,000 themes. Another impressive feature of this tool is that it updates itself every 36 days to keep up with the latest trends and practices. The structure and flexibility of this CMS platform make it ideal for social media web developers. It also had quite strict security.
However, a major downside is its complex interface that can be difficult to understand. Joomla also has major SEO Optimization limitations.
Also Read: EMR Development: Essential information and Recommendations
WordPress
By far, WordPress is the most popular content management software anywhere globally. More than 75 million websites have been built using WordPress, and the number keeps rising. The level of customization that WordPress offers is mind-blowing and incomparable to other smaller tools out there.
WordPress is a CMS platform with more than 3,000 themes and a breathtaking 40,000 plugins. You'll find virtually every plugin of your choice on this tool. WordPress is also easy to use and excels as an Open Source tool, allowing more optimization and customization.
This CMS platform stays ahead of trends and practices by updating itself every 40 days. WordPress setups are suitable for simple websites that place a focus on blogging. But don't be surprised if you find eCommerce websites jumping on it too.
WordPress has a simple to use and easy to navigate interface with built-in SEO support. As a result, it's incredibly easy to scale it to size any website. But its major downside is that it supports moderate performance.
By being set up to work on all types of systems, the tool can only moderate-level version. Also, some amount of work could be done to improve its security.
Drupal
Drupal is a CMS tool with over 25 million downloads and is currently responsible for the successful setup of more than 1 million websites. This platform excels at handling multiple users with ease and is a little more complex than some other tools on the internet.
Despite supporting about 26,000 themes, the CMS platform only has a market share of 4.8%.
You see, Drupal is highly customizable and requires a lot of technical expertise to control its full range of features. You'll be surprised at how easy it is to maintain. Website developers enjoy its built-in SEO support, but don't expect the same efficiency level as what you would get on WordPress.
Furthermore, the platform is integrated into more than 200 platforms and has adept security measures.
Liferay
When you download Liferay, you gain access to a CMS tool built for a specific niche. Currently, you will find only about 10-15k websites that use this tool. Liferay has a market share of less than 1% of the overall ecosystem of websites.
There are no free plugins and themes on this website. Also, it gets regular updates every 30 days to stay ahead of trends. 
Due to its design and basic features, this tool is mostly used by corporate businesses. Its full range of CMS capabilities allows small and large businesses to thrive with its system. This platform is relatively difficult to use and leaves only a little room for customization.
For better results, you may look to hire a Liferay development company. Because the platform is designed strictly for corporate businesses, the security protocols are taken seriously.
However, many web builders will fail to find it attractive because it lacks an in-built SEO support feature. Furthermore, it's useful for only one niche and has limited scaling options at its disposal.
Also Read: Software Development for e-Commerce: 7 Amazing Facts to Know
Conclusion
Finally, we've gotten to the end of this piece. In it, we have taken a detailed look at the top content management systems on the internet in today's world – Liferay, WordPress, Joomla, and Drupal. So, which of them is better?
When you look closely at each of the options explained above, it's clear that each of these options is well-designed to help web builders access the best features to optimize and customize their websites.
However, WordPress stands out among the available choices because of its widespread popularity, secure system, and a full range of customizable options. While other CMS platforms focus on a few sectors or niches, WordPress provides a platform for everyone.