Every employee who works in the company wants to feel included and engaged in the workplace culture. But it can be more difficult for the employees who work remotely and don't have the opportunity to build relationships with their co-workers. Here remote workers feel left out of the company. 
No doubt that working remotely has a lot of perks. Employees can save money by avoiding several expenses, working according to their flexible hours, spending more time with their family, and more! In the era where we live, remote work is increasing day by day, and striving to help remote workers feel included is now more challenging! 
Moreover, due to the COVID-19 pandemic, employees faced many challenges, including loneliness, feeling disconnected, and much more! Companies need to build team engagement with their remote workforce.
Failing to do so will result in losing top-talented employees.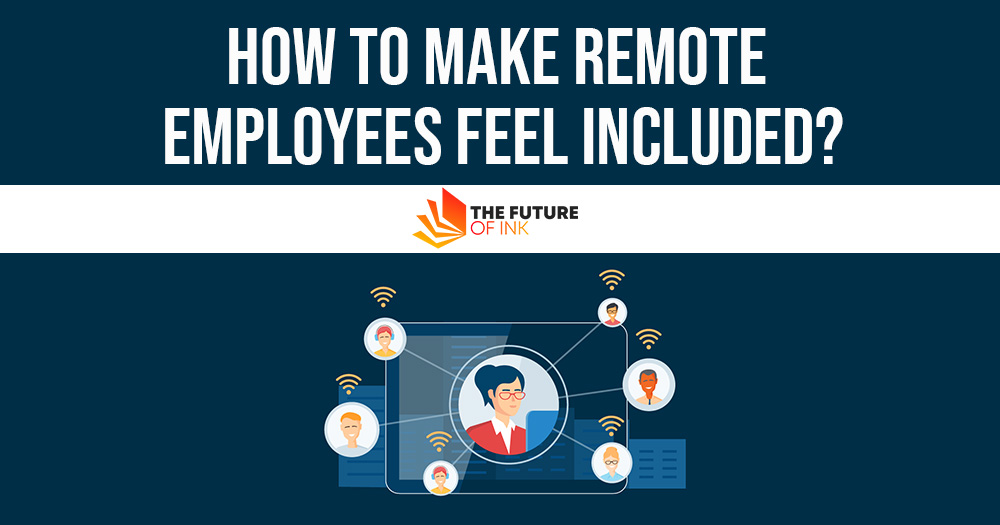 Engaging in remote employees can be quite tricky, but here are some trusted ways through which your employees will feel more included and engaged. Keep continuing to read this article to know how to keep employees included. 
Tips To Make Remote Employees Feel Included
Building strong connections with employees is essential for the growth and development of any business.
Here is the list of ways to make your remote employees feel more connected: 
Online Social Interaction & Appreciation
Our society is becoming more modern technologically. We use several online platforms to interact with each other no matter where we are.
Similarly, if your employees are working remotely, it is best to include them on several occasions by organizing virtual tours or fun online events daily or weekly.
It is the best way to encourage your employees by providing a fun outlet. It is an excellent way for them to know each other. You can also conduct some online sessions for a business meeting. 
Furthermore, appreciate the work of remote employees as much as you do your on-site employees. You must show appreciation and recognition for the work of your remote employees and promote their abilities.
Try to write a newsletter every month or weekly where you can highlight your employees' accomplishments, both remote or on-site office employees. Also, take feedback from your employees about the newsletter, or you can get some ideas about the format of the newsletter. 
Also Read: 10 Interesting Data Analytics Real-Life Applications
Empower employees with flexibility & pay on time
Let your remote employees work according to their flexible hours by maintaining their working schedules. This policy will work best for those who have to take care of their children, home, or many other things during the working days.
When you give your employees the authority to choose the working hours that suit them best, they serve more to your business in several ways. It also gives them a good work-life balance and makes them feel more connected to the business. 
Moreover, you can also give bonuses to those remote employees who work hard for your business and consistently deliver work on time. It will not only encourage them but also boost their productivity.
Also, pay all the employees on time to work more happily. You can use a pay stub generator to keep all the records of payment transactions of remote employees. 
Involves employees while making decisions of the business
When you make any decision about business without involving your remote employees, they feel excluded from the business. When you include your remote employees or on-site employees in any decision-making process, they feel more included in the company. 
They also share their ideas and opinions, which can be beneficial for your business in the future. Considering everyone's opinion is a great way to create a positive work environment. You can also set some long-term goals and ensure that everyone works on them correctly. 
Plan a monthly or yearly retreat
To get together your remote team and make stronger connections, you can arrange a yearly party for all of your employees, including remote or on-site employees. It is one of the most effective ways to spend quality time with each other. 
You can also share your ideas and thoughts about projects and set goals for your company's achievement. You can also arrange some fun activities because this will refresh the mind of your employees. In this way, your employees will feel more connected with the company and other employees. 
Make sure your employees feel valued.
Your employees deserve to feel valued even if they're not working from the office. You must always appreciate them for their efforts, or you can even take them out for lunch or give them some gift for their work anniversary. 
You should find some ideas to celebrate your worker's work from time to time. If someone has a birthday, you give them a birthday card with a cute little gift. You can also ask your employees whether they face any problems or go through everything well. You should always listen to them carefully and answer each query. 
Encourage the health & wellness of your employees.
Your employee's good health should be your priority. You can create some exercise sessions or healthy habits or even start a wellness program for your employees. In this way, your employees' health will improve, and they will start to care about their overall well-being. 
Also Read: How Secure is Your Data on Social Platforms like Instagram?
Final Words
You can make your remote workers feel included by following the above tips. In this way, you can build a strong culture in your workspace or relationships that go beyond work.
You can also create several activities that should keep employees engaged and included. Also, always appreciate them for their efforts.