If you're someone who likes to take pictures then you probably have done it through your cell phone. Today cellphones are equipped to capture high resolution and take images of moving objects.
It has become more convenient to use than the traditional camera. A term even coined to define the art of capturing images with your cell phone– phonetography.
So if you have filled your gallery with hundreds of images you took, and want to compile your work and select images from your gallery to create a theme, then it's high time for you to organize your pictures into a PDF file.
Converting your JPG pictures into PDF and combining them to make an excellent collection will make it easier for you, in the long run, to scan through them and share them with others if needed.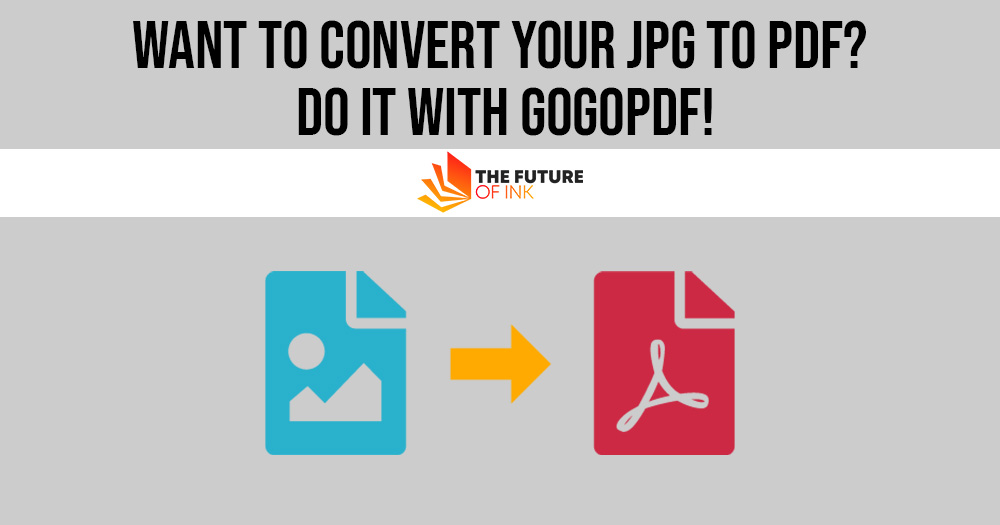 How do you convert your JPG to a PDF format? It's easy and simple with GogoPDF.
Convert Your JPG to PDF With the Right Tools
JPG is the usual format used by photographers as they edit their work because it's the best format to use when working with images.
But to make your work more presentable and easy to scan, compiling them to one group and converting them to a PDF file single is the key.
But as you convert JPG to PDF, you should select the best converter to maintain the high resolution and have quality files. Simply visit their website and click on JPG to PDF conversion tool and you will see these simple steps below:
1. Get the image that you want to convert from your device, or drag and drop it into the converter box.
2. Select an output format from the available options. Click on the button to begin the transformation.
3. Wait for the process to complete.
4. Download and save your converted PDF file to your computer. Copy the link, and share it on any of your social media accounts!
After conversion you can then easily merge your PDF files into one collection, using GogoPDF's merge tools.
Also Read: Delete Pages With Ease Using GogoPDF
GogoPDF Can Do More!
Besides JPG, GogoPDF can convert formats like GIF, BMP, TIFF, and PNG into PDF files. You don't have to look in other places to do image conversions for you because GogoPDF has it all in one place.
If you're planning to use some of your pictures as illustrations in a Word file then it's best to create the Word Document, then convert the Word file into JPG.
You don't have to go far because GogoPDF has an array of tools to help you with tasks related to PDF files. Here's what you can do with GogoPDF's online tools:
1. Convert File "To and From" PDF
From Word, Excel, Powerpoint Presentations, HTML, and Image formats mentioned above, GogoPdf can convert your file into a secure and compact PDF file.
The PDF format is very dependable because it allows everyone to view a file the same way, without the contents being distorted.
With a PDF format regardless of what version of Word, Excel, and other Microsoft software applications you use, it will maintain the integrity of the structure and content of your file.
Besides being able to convert files to a reliable PDF format, GogoPDF can also convert your PDF files into their raw format and make it easier for you to edit files. 
2. Organize, View And Edit
PDF files can be very manageable with the help of GogoPDF. If you have PDF files with pages that need to be rearranged then you can easily do with their merge and split tools. While additional pages are in your PDF you can easily move them into the order you want.
Splitting pages also allows you to segregate different parts of lengthy PDF files. If you have pages that you don't want to include, then get rid of them will be easy to do with the use of the delete tool.
When it comes to adding elements to your file, you can use numbers, watermarks and even edit the content of your PDF. And with the use of their rotating tool, you can position pages to make them more organized.
GogoPDF can also help you easily share your files in any social media platform or your email, through its share your document tool, so you won't have to download it manually, making it more convenient on your part. 
3. Compress and Repair
Files can be damaged from viruses, and PDFs are no exemption. So if you have PDFs that were compromised when an application or software system you're using crashes and you're planning to delete them- there is still hope! You can use GogoPDF's repair tool to revive your PDF to its former glory.
For PDF files that have lengthy content or have weight because of multimedia elements, you can make them lighter to save, easy to send, and consume less space in your storage by compressing your PDF files with GogopPDF's compressor tool. 
4. Sign and Secure Your PDF
Lastly, your file's security will be optimized with GogoPDF. You can add watermarks to indicate how important and sensitive the document is and even add electronic signatures to show how official your file is.
And since watermarks and electronic signatures aren't enough to keep prying eyes from opening confidential files, GogoPDF also has password protection so that only authorized individuals can get access to your files.
GogoPDF also assures its users their privacy and will automatically delete your files on GogoPDF's server after one hour of processing, so you're sure that any data or content you share with them are safe and protected. 
Also Read: Need to Merge PDF Files? PDFBear's Got You!
A PDF makes your files not only compact but safer and organized at the same time. With your JPG images converted inside a PDF file, you and others will see the scope of your work.
If you know someone struggling with PDF tasks, you can impress them with the tools you discovered. Make sure to explore all of the tools and features by GogoPDF, you will never know when you will need one.