Eastern Europe is probably the most attractive offshore location for software development, and the US, UK, and Western Europe love doing business with Eastern Europe software development outsourcing companies.
There are hundreds of outsourcing companies in Eastern Europe to choose from, each promising that they can deliver cutting-edge solutions at low prices with teams of qualified and highly-trained software developers at their disposal. 
However, no situation is absolutely perfect. Before you turn to Eastern Europe software outsourcing solutions, you have to understand the pros and cons of doing business there.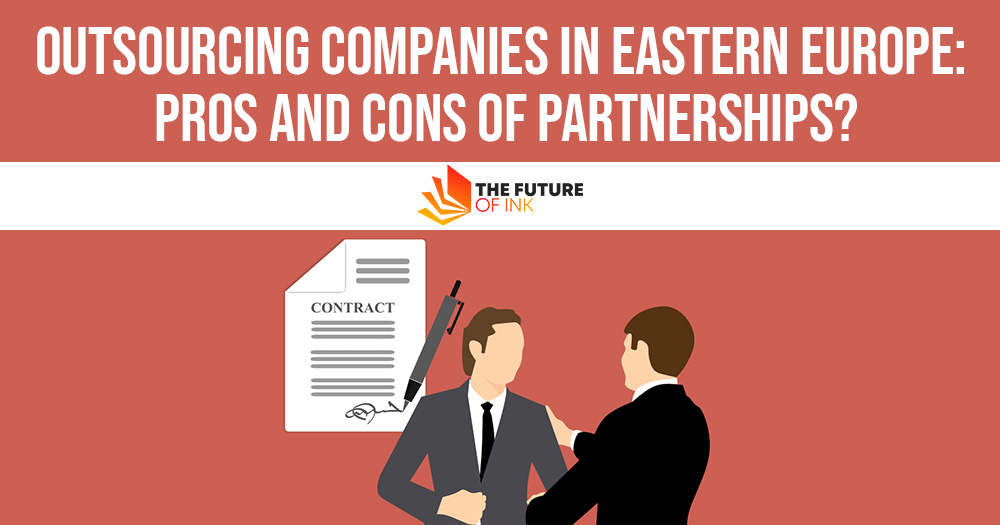 Pros and Cons of Hiring Outsourcing Companies in Eastern Europe
There are more than 1.3 million developers in Eastern Europe, and companies like Google, Hewlett Packard, and Facebook have all experimented with outsourcing software development to Eastern Europe.
Let's look at the pros of Eastern Europe software development outsourcing.
Pros of Using Eastern Europe Software Development companies 
Great Rates, Advanced Skills
Software engineers in Eastern European countries are highly qualified. Their rates aren't as cheap as developers in the Philippines, but their expertise is unparalleled, and they have rare skills that are hard to find elsewhere.
Besides, their rates are still at least 50% lower than those in the US, without compromising on the skills they bring to the table. 
Also Read: How to Avoid Work-From-Home Scams: A List of Wake-up Calls to Identify Fraudsters
Time Zone Commonalities
There is still considerable overlap between the US (especially the American East Coast) and countries like Poland, Belarus, and Ukraine. The average difference in time is around 7 hours, which is much more favorable than that of China or India.
That means if you encounter an emergency, you don't have to wait for your team to wake up before it can be addressed. 
Growing Talent Pool
Eastern Europeans love technology. 36,000 Ukrainian students qualify as developers every year, and 60,000 Polish graduates join the software market annually.
They not only stay up to date with the latest tech trends but are very familiar with American cultural trends too. 
Convenience 
Tech hubs like Kyiv, Lviv, and Odesa have international airports, and they are only 8 hours from the USA.
You can travel to these locations safely, overnight, and meet your team face to face. From there, the rest of Europe is easily accessible. 
Data protection laws
Eastern European countries have strict intellectual protection laws which will keep your code and copyright safe.
Outsourcing is very secure as your information will never trade hands without your consent. 
Pros of Using Eastern Europe Software Development companies 
While the benefits are clear, it's always good to know what the disadvantages are before making a final decision.
Let's consider the cons of outsourcing development to Eastern Europe. 
Taxation
Some European countries have really favorable, low tax rates, while others have obscure and convoluted rules that can make it difficult to do business with them.
It's important to check up on tax laws and regulations before hiring an outsourcing firm. 
Staff retention
Unless you are using a really reputable offshoring company, you may find talent leaving the project midway.
The market is highly competitive and unless the company has a strong database of developers and good relationships with them, developers are spoilt for choice and can leave at any time. 
Poor communication
Not all Eastern European countries are proficient in English. Countries like Ukraine have about 85% of their tech population well-trained in English, but this rate is much lower in Bulgaria and Poland.
It's important to know what the skill level is for the countries you're dealing with. 
Data leaks
Not every company is scrupulous about protecting your information. You might find developers including code in their Github portfolios or companies holding code hostage because you didn't do your due diligence with your contracting. 
Also Read: The Benefits of Going Paperless for Your Business
Instability
Eastern Europe has had its fair share of political instability and conflict, and while the situation has been stable for years, some countries are slightly more volatile than others. This could disrupt operations if something goes wrong. 
While every outsourcing destination will have its pros and cons, there are many reasons to hire outsourcing companies in Eastern Europe.
Saving money, gaining access to top talent, and the convenience of a shared time zone make it truly worth the investment.